Aspire Feedlink Boost Kit
Aspire are very proud to announce our first venture into the Squonk market with the outstanding Aspire Feedlink Revvo Boost Kit.
The Feedlink is a bypass firing, single 18650 powered squonk mod that contains all the safety features you would expect from Aspire.
The Quality of the mod is outstanding and feels exceptional in the hand. Its almost pistol grip feels very ergonomic and the operation of the squonk and the firing can all be operated using one hand. The Aspire Feedlink Revvo boost is an absolute joy to hold and use. This is a game changer in terms of Squonk to Tank Kits.
Speaking of Tanks, the kit features the Revvo Boost tank which is a slightly tweaked version of the popular Revvo tank launched earlier this year. It uses slightly different Revvo Boost coils to further enhance flavour and to perfectly perform as a squonker. The tank itself is equipped with a squonk pin which means no more filling the tank as per usual. Simple squeeze the squonk bottle and watch as the tank fills itself.
The Tank is 2ml TPD compliant but this isn't an issue when you have a squonk bottle attached ready to fill your tank on the fly in seconds with a simple squeeze.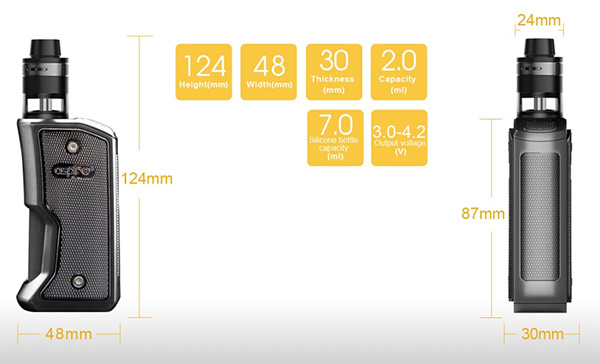 How to fill the squonk bottle ?
Such a simple yet beautiful system. Remove the bottle from the carrier, unscrew the metal top cap feeder and feeder tube and fill with e liquid. Max capacity is 7ml in the squonk bottle.
Replace the top cap feeder and screw everything tightly back together before reinserting back to the carrier.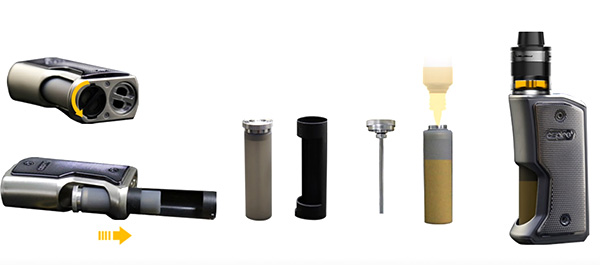 What you get in the kit ?
x1 Aspire Feedlink Squonk Mod.
x1 Aspire Revvo Boost Tank.
x2 Aspire ARC Boost Coils (0.10-0.14 ohm)
x1 Replacement Glass.
x1 Bag of o-rings.
x2 Aspire Warning Cards.
x1 User Manual.
x1 Warranty Card.
Please Not this product is not passed by MHRA yet.